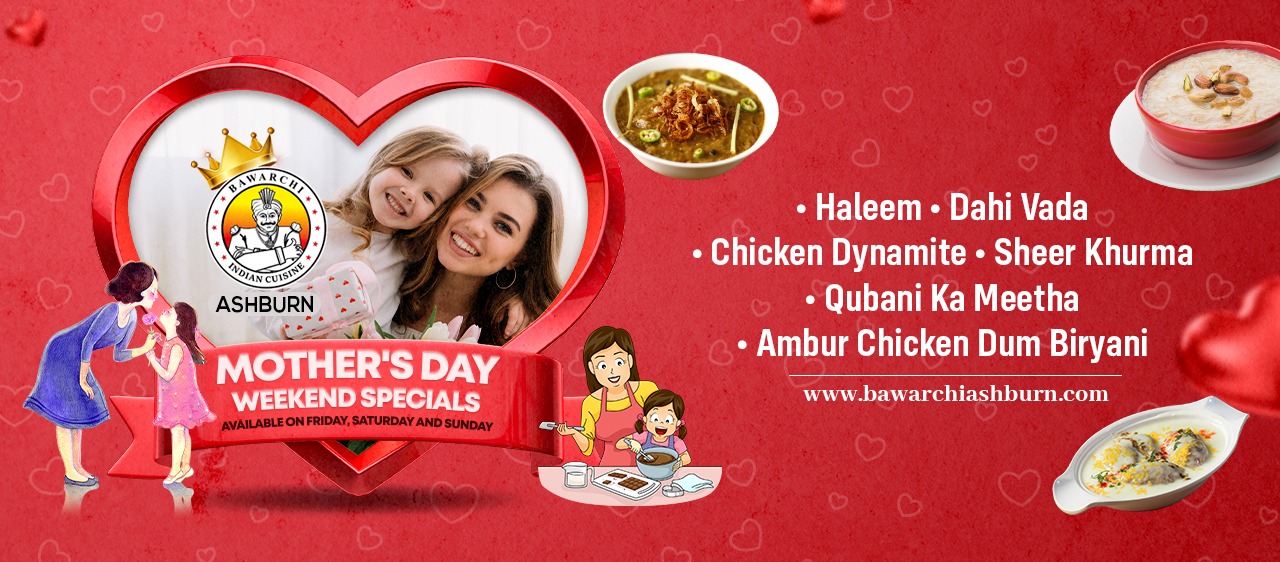 Bawarchi Naan Specials: Enjoy 5 delectable naan varieties this Mother's Day weekend:
Kashmiri Naan: Sweetish Naan stuffed with ground cashews, dry fruits, shredded coconut and honey.
Paneer Tikka Naan: Naan stuffed with shredded paneer tikka.
Chicken Tikka Naan: Naan stuffed with shredded chicken tikka.
Kheema Naan: Naan stuffed with spicy ground goat meat.
Tandoori Chicken Naan: Naan stuffed with spicy shredded tandoori chicken.
Ambur Chicken Dum Biryani: This specialty Biryani first prepared by the Nawabs of Arcot area from Tamil Nadu is made from special rice grains called Seeraga samba. Meat, the rice and special spices are cooked in layers with a little more water than used for other types of biryanis like the Hyderabadi dum kind to give it more moistury texture.
Haleem: Seasonal savory porridge made with goat meat, wheat, lentils and traditional Hyderabadi spices.
Chicken Dynamite: Nuzvid street style "orange" chicken appetizer made with red chilli paste and hot and sour sauce.
Sheer Khurma: Another Ramadan seasonal favorite pudding prepared with vermicilli, ghee, dry nuts and fruits.
Qubani-ka-Meetha: Hyderabadi Nizams special! Dessert made with apricots, dates and nuts.
FREE dessert on all carry-out orders on Mother's Day, Sunday, May 9th, 2021.